Join us in making a positive change in our community. Your contributions, whether through donations or purchases, will directly support Habitat for Humanity Peninsula and Greater Williamsburg . Together, we can turn unwanted items into opportunities for others and build a stronger, more supportive community.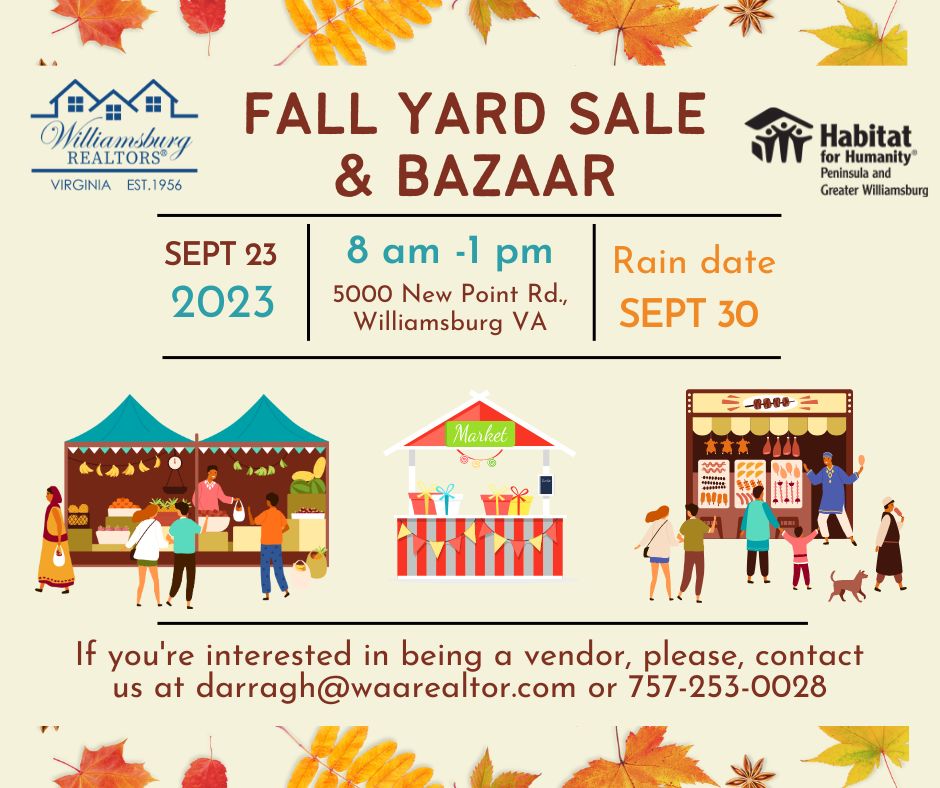 How can you get involved? It's simple:
1. Gather Your Unwanted Items: Take some time to go through your belongings and identify things you no longer need. Whether it's clothing that no longer fits, electronics you've upgraded, or furniture that doesn't suit your style anymore, your donations can make a real difference.
2. Donate to the WAAR Yard Sale, or Sell it yourself!
3. If you're donating, please, bring your donations to the WAAR office between 09/11-09/21. All proceeds from the sale will benefit the WAAR Habitat for Humanity project.
4. Shop and Support: find hidden treasures, unique pieces, and great deals, all while knowing that your purchases are directly contributing to a worthy cause.
5. Spread the Word: Share the news about the WAAR Yard Sale with your friends, family, and colleagues. The more people who participate, the greater the impact we can make together. Here is the event page to share: https://fb.me/e/wxECSNSq
Here's a list of items that we gladly accept as donations:
Clothing and Accessories: Clean out your closets and donate gently worn clothing, shoes, bags, and accessories for all ages.
Furniture: Have furniture that no longer suits your style or needs? Donate sofas, tables, chairs, dressers, and more.
Electronics: If you've upgraded your electronics, consider donating your older gadgets like smartphones, tablets, laptops, and gaming consoles.
Household Items: Small appliances, kitchenware, home décor, and other household items are welcome.
Books: Share the joy of reading by donating books of all genres for children and adults.
Toys and Games: Help spread smiles by donating toys, board games, puzzles, and other playthings.
Sports Equipment: Sports gear, bicycles, and outdoor equipment in usable condition.
Art and Crafts Supplies: Creative materials like paints, brushes, yarn, fabric, and other craft supplies.
Unwanted holiday and Christmas décor