The Voice for Real Estate in America's Historic Triangle™
Upcoming Events & Classes at WAAR
For non-members registration please, give us a call at 757-253-0028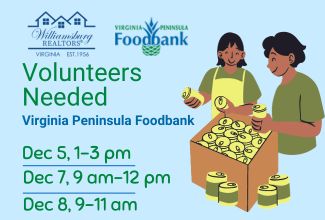 Join the WAAR Outreach Workgroup on an initiative to fight hunger at the Virginia Peninsula Foodbank. Please, click the button below to choose a date and a job that speaks to your heart, and get ready for some exciting action. Here are the awesome volunteer jobs up...
read more
DIVERSITY, EQUITY, INCLUSION
This error message is only visible to WordPress admins
Reconnect to YouTube to show this feed.
To create a new feed, first connect to YouTube using the "Connect to YouTube to Create a Feed" button on the settings page and connect any account.
Twitter feed is not available at the moment.